High precision system for positioning in prostate cancer therapy

Micropose Medical was founded in 2003 in Sweden. It develops systems for advanced cancer therapy solutions.
RayPilot® is a system using RF radiation for positioning prostate in real-time during radiotherapy.
Precision during procedure
RayPilot® system can be compared with a GPS system, as the target is localised in spatial coordinates with radio waves. System communicates with a transmitter implanted in the target volume. Transmitter sends location signal 30 times per second and it allows software to determine its position. Advanced algorithms can deliver a sub-millimetre precision during the procedure.
System consist of RayPilot Receiver placed on the table top, RayPilot Transmitter implanted in the organ and RayPilot software for communication and integration.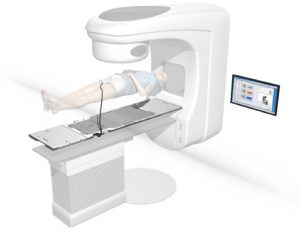 System is used during prostate irradiation, where precision and localisation influence the clinical outcome. RayPilot reduces time of procedure and increases patient's comfort. System can operate with all linear accelerators and the auto gating feature is available for Varian Clinac® iX and Trilogy®
Pros:
Precise and fast patient positioning without additional ionizing radiation
Automatic patient identification
Real-time positioning of the target
Dosimetry in-situ*
Complete retrospective data about the target's position during the treatment
Process analysis tools
*Under development
Publications:
http://www.micropos.se/scientific/publications/
Videos:
http://www.micropos.se/scientific/videos/
Additional materials:
More details can be found: